You are such a great chef!! Lucky students… I look forward to another journey women adventure and amazing food weekend!! 🙂
-Sharon
Those of you who are interested in trying a homeschool Spanish class should really consider the one that Julia Grueskin is now offering at The Studio Space! We had our first class this week, and it was awesome! My sometimes hard-to-please son was so happy afterwards, and was talking about his new friends and the things they learned to say for hours that afternoon! I highly recommend this class! 🙂 Julia, you are amazing with kids! We simply could not believe how much laughter was coming from that group during the class! Kiddo is really looking forward to the next one! Oh, and it was not just messing around laughter…he learned a lot, too! 🙂
-Saorsa
This past weekend I had the amazing privilege and honor to cook alongside the highly trained and talented vegetarian chef Julia Grueskin during an incredible and uplifting yoga retreat led by some fine gems. I learned so much about delicious foods and recipes but I also learned an insane amount about myself through the various yogic activities. If you have never been on a yoga retreat… I highly recommend! Disclaimer: the other fridge was basically overflowing with green goodness! Soooo fun!
-Christine
And not to forget to mention the 5 ☆☆☆☆☆ restaurant quality nutrition we were spoiled with!! Spirit AND body blessed!! -Sharon
Yes, I took a picture of the food! It was so pretty!!! -Erin
Speaking of deliciousness – here is Julia's website! -Marina
Thank you again!! You are a great chef!! And I know they are really looking forward to cooking your recipes. -Jenny
My son had so much fun at the cooking class yesterday! Julia, you are truly gifted with kids and food! Thanks for offering this!
-Saorsa
In my raw food class today I learned how to make chocolate mousse out of avocado and cocoa (and a few other ingredients) and it was bomb. ‪#‎2015LearnNewThings‬ ‪#‎NOM‬ And you were a terrific chef instructor, Julia! Recipes that impress even the most loyal carnivore!
-Jordi
We love Julia's ability to make simple, healthy, vegan ingredients taste like culinary art- just amazing. Even our non vegan friends were amazed at the flavor, texture and originality of her dishes. She's so talented!
-Rhonda
Little shout out to my very good friend Julia 

 she has been such a god send during this pregnancy. Creating a prenatal yoga routine for me to do daily and always being there for the emotional support a new mama needs! Thank you 🙂 #truefriends #shesgoodpeople
-Elle
Julia is a graduate of that October 2012 [culinary] Track. Julia did some great work in Austin in the Yoga scene and with the organization Growin' Together. She has now relocated to New Mexico and will continue her work in food, yoga and art. We miss you Julia!!
-Rosa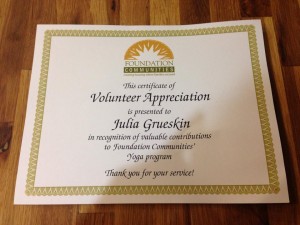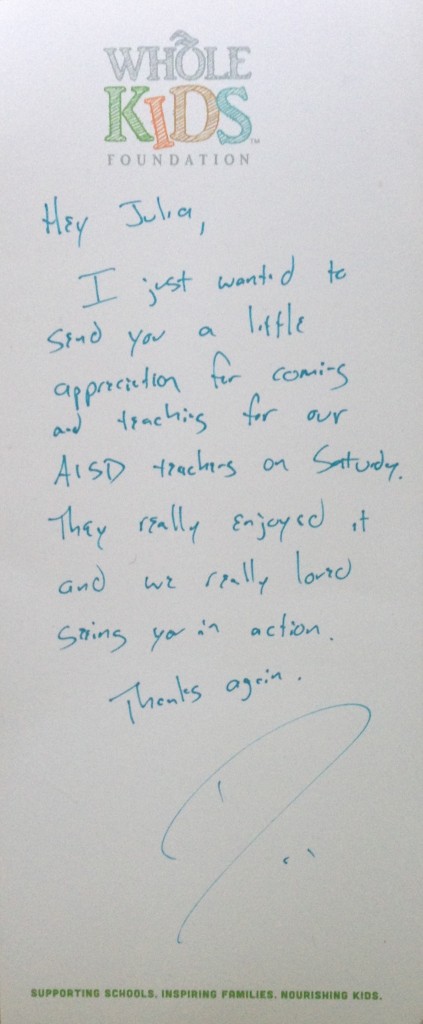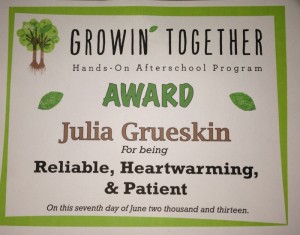 New Cooking Instructor! 

We are happy to welcome our newest teaching artist – Julia Grueskin. She is a new graduate of the Natural Epicurean Culinary School and brings a new perspective to the the Growin' Together kitchen. Our first class was a celebration of healthy Easter treats! Julia taught us how to make Ayurvedic Chocolate Truffles and Raw Chocolate Mousse. Check out the recipes here.